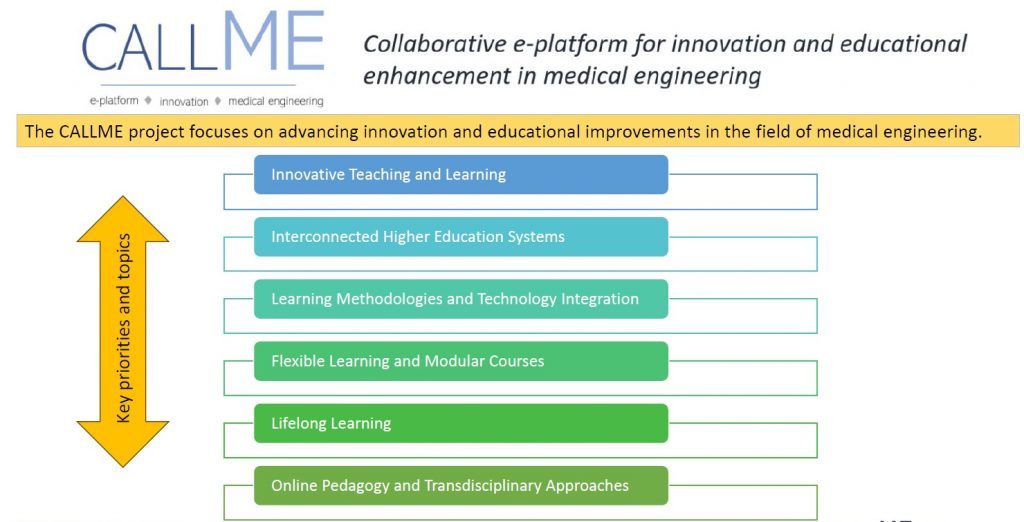 WP1's goal is Project management and budget control of the project. The management structure for monitoring activities: I): Project Steering Committee (PSC) – Project management activities on the top-level – Transnational II): National Advisory Board (NAB) – Overall monitoring of the project implementation – National: External team from each partners country, with one member from the project team III): Monitoring and Evaluation Committee (MEC) – Tracking and monitoring of the project implementation, i.e., mostly qualitative and quantitative indicators – National.

WP2's goal is to establish a network for medical engineering and education, promoting knowledge exchange and collaboration primarily among Higher Education Institutions (HEIs), businesses, and public institutions. This Knowledge Triangle Network features E-Centers, including HEIs, industry partners, and medical clinics, potentially extending to research centers and public/private institutions. The network's unique structure and connections are created using innovative in-house methods.
Partners within the network are connected through E-COOL, an E-platform created in WP4. Each E-Center operates as a separate entity, following Object-Oriented Programming (OOP) principles. The network's structure is based on Natural and Engineering Sciences (NEM) principles. In addition to the digital E-Network, a physical network is established, fostering direct relationships among project partners. Overall, the initiative aims to create an E-Network of E-Centers that supports long-term project sustainability, allowing for continuous improvement of educational content and offering e-learning capabilities. Each partner, including businesses, HEIs, and public institutions, can contribute and access existing learning resources and expert knowledge, enriching the field of medical engineering education.

WP3's objective is to apply NEM and STEM principles to existing learning materials and lay the groundwork for future HEI and business curriculums. This involves enhancing and implementing NEM, creating innovative educational materials using NEM and STEM, adapting learning materials for individuals with disabilities, establishing a learning system that continually provides updated content, and ensuring flexibility to meet specific educational, corporate, and organizational needs. To implement NEM, three key innovations are introduced: Molecule-Based Learning (MBL) presents knowledge as "molecules," Smart-sEquence Learning (SEL) customizes the sequence of learning materials, and Intelligent Content Creation (ICC) tailors learning materials to individual preferences. In essence, WP3 aims to revolutionize eLearning by infusing NEM and STEM principles, resulting in personalized and adaptable educational materials and systems for HEIs and businesses.

WP4's objective is to establish the web platform, known as the E-COOL Smart Content Management System, to facilitate the integration of the formed network and the application of courses based on NEM and STEM principles. This platform, E-COOL, serves as a web-based open-source Smart Content software for eLearning, content creation, and collaboration in medical engineering and related fields. It's designed to be responsive and adaptable to various devices, such as laptops, mobile phones, and tablets.
E-COOL platform should achieve several specific sub-goals:
Enable the creation of courses using NEM supported by STEM.
Support real-time collaboration among project partners, allowing for custom modifications to be made by individual partners while ensuring basic content management functions are included. Facilitate the publication of project results, collaboration, and dissemination through selected channels like social media, marketing services, podcasts, and forums.

WP5 aims to promote the network and NEM principles while ensuring sustainability through the utilization of the developed E-COOL platform and other relevant resources. The key sub-goals include establishing and executing dissemination and sustainability strategies, as well as organizing two Multiplier Events (ME) to promote project results. The dissemination strategy, developed at the project's outset, covers sharing and promoting project outputs both within partner organizations and beyond the partnership. It includes identifying target audiences, channels, activities, and qualitative and quantitative indicators for implementation. The sustainability strategy, also established early in the project, addresses the viability of project results, with the E-COOL portal being the primary source for sustaining these results over five years after project completion. Additionally, educational and research resources will be made available through open data portals such as OCC, OSDC, and OSF. Two Multiplier Events are planned to promote project results, with the first event focusing on the promotion of novel educational methodology.