The CALLME project is dedicated to advancing innovation and educational enhancements in the field of medical engineering. Its core priorities and topics encompass a comprehensive approach to improving education in this domain. First and foremost, the project places a strong emphasis on stimulating innovative learning and teaching practices to ensure that educators stay current with the rapidly evolving landscape of medical engineering. This involves the adoption of creative and up-to-date teaching methods that engage and inspire students.
In addition to innovative pedagogy, the project seeks to promote interconnected higher education systems by encouraging collaboration among various stakeholders within the field. This interconnectedness is crucial for creating a well-coordinated ecosystem that fosters excellence in medical engineering education. Furthermore, the CALLME project emphasizes the development, testing, and adaptation of learning and teaching methodologies, particularly in Natural and Engineering Sciences (NEM) and Science, Technology, Engineering, and Mathematics (STEM). This includes integrating modern information and communication technologies (ICT) and related tools to enhance the teaching and learning experiences in medical engineering.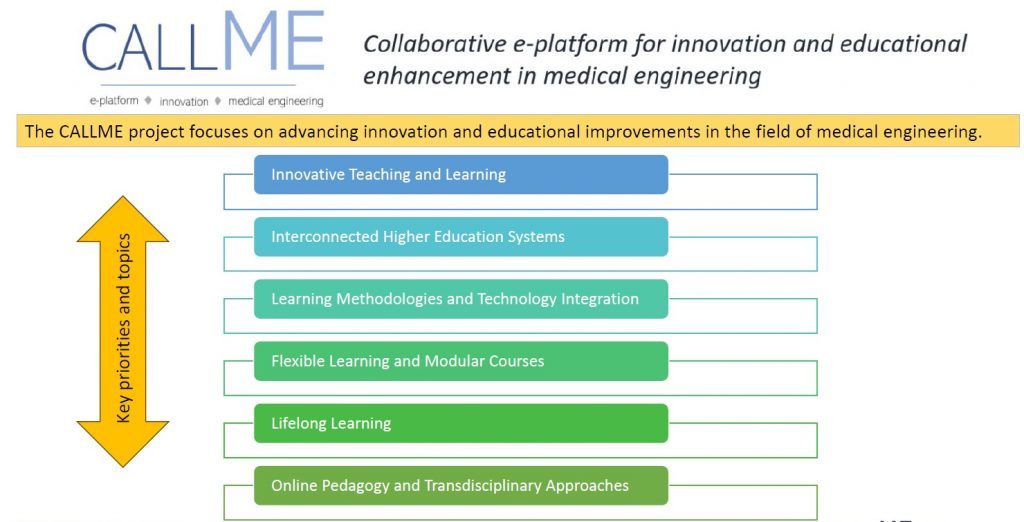 The project also focuses on flexible learning pathways and modular course design, with an emphasis on online education. This approach provides learners with the flexibility to tailor their educational journey to their needs. It also explores innovative methods of online assessment to accurately measure student progress and competence. In line with the principles of lifelong learning, CALLME seeks to enable continuous education within higher education and emphasizes the importance of recognizing and validating short training programs that lead to the awarding of micro-credentials.
Online pedagogical approaches play a pivotal role in this project, incorporating transdisciplinary methods and new curricula tailored for online environments. The design of teaching strategies is grounded in educational research, innovation, and creativity, fostering an environment where educators can develop and deliver content that engages and inspires students. Additionally, the project is dedicated to fostering innovation and collaboration, promoting partnerships between higher education institutions and both commercial and non-commercial organizations in the public and private sector. This collaboration aims to drive openness, entrepreneurship, and innovation within the higher education sector.
Finally, the CALLME project creates opportunities for learners and teachers to enhance their credentials and skills, thereby enabling an additional avenue for earnings. This multifaceted approach collectively strives to enhance the quality of medical engineering education, promote lifelong learning, foster innovation, and strengthen collaboration within the higher education sector.